The Best In British Jazz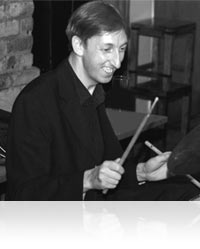 Appears on
Steve Brown
Born in Manchester, England, Steve developed an early interest in music and began playing drums at age 14. By age 19, he was performing with local jazz groups. By the time he was 23, Steve had become the "first call" jazz drummer in Manchester, working with Scott Hamilton, Art Farmer and UK artists during their engagements in the city.
In 1996, Brown moved to London and began working as a sideman with many of the capitol's finest musicians including engagements with jazz greats Harry 'Sweets' Edison and Conte Candoli. During the next 4 years his playing career went from strength to strength and Steve was the winner of the 'Drums' and 'Rising Star' categories in the 1999 British Jazz Awards.
In 2000 Steve joined the quartet of the great jazz saxophonist Scott Hamilton, with whom he has toured internationally over the last seven years. He is also featured on his last four recordings for Concord records.
In between his engagements with the Scott Hamilton quartet, Steve continues to perform and record with a wide variety of artists including Benny Golson, Benny Green, Carl Fontana, Barry Harris, Junior Mance, Charles McPherson, John Bunch and Hod O'Brien.