The Best In British Jazz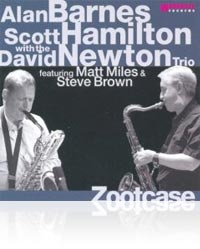 Currently unavailable
Personnel
Recorded Eastcote Studios, West London 2006
Zootcase
Alan Barnes / Scott Hamilton
Details
First tune up on the day was "Disorder at the Border" and Scott immediately dug in and played some great blues. It set the tone for the whole session- relaxed, driving and wholly enjoyable. The David Newton Trio was the ideal choice of rhythm and Scott plays at his swinging best.
Reviews
Zootcase is a straightahead swinger's idea of heaven. British saxophonist Alan Barnes, who plays most reed instruments, restricts himself to lightly skipping alto and supportive baritone saxes here, to contrast vivaciously with American Scott Hamilton's throaty expressiveness and more arrhythmic phrasing. The two explore the intertwining "two-horn" contrapuntal swing style in both written and improvised passages. The British rhythm section is led by the ideal pianist, the glossily elegant David Newton. Barnes's airy, Cool School sound on alto is eager and urgent on Stella By Starlight before Hamilton's shrewdly paced tenor solo follows, and Coleman Hawkins's riffy swinger Bean Soup suggests a bigger front line.
Hamilton, a peerless ballad player, is languidly eloquent on Stardust and Do Nothing Till You Hear From Me - the latter played as a call and response with Barnes. I Remember April is delivered as an uptempo Latin feature with swing diversions, and the two horns huff assertively on a punchy Disorder at the Border. Hamilton usually takes the spotlight on his own, so to hear him in duet with a sidekick right on his wavelength is an agreeable rarity.
John Fordham - The Guardian