The Best In British Jazz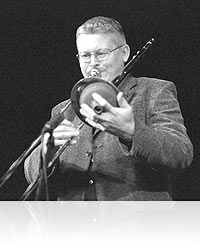 Appears on
Mark Nightingale
Mark Nightingale began playing at the age of nine and his outstanding talent became widely recognised when he won the coveted Don Lusher Award at the age of fifteen. At sixteen he was already lead trombonist in the National Youth Jazz Orchestra of Great Britain and developing his creativity as a composer and arranger. Whilst in NYJO he formed and lead the 5 trombone band, 'Bonestructure', producing their debut album in 1988.
Since graduating from Trinity College of Music, London, Mark has not only flourished as one of the busiest session-musicians on the London scene, but also become highly respected and sought after internationally as a jazz trombone soloist. Although still in his thirties, his rich and varied musical life has already taken him from playing on countless film soundtracks and TV shows to writing educational books and pieces for the Associated Board of the Royal Schools of Music, recording for Sting, Tom Jones, The Spice Girls or Robbie Williams, to playing in the orchestras of Henry Mancini, Michel Legrand or Frank Sinatra. Mark has been featured with London Brass and at many BTS and ITA Festivals, and he has also performed in such esteemed jazz company as Clark Terry, Bill Holman, Slide Hampton, James Morrison and Ray Brown.
In the 1990's Mark produced two critically acclaimed solo CDs under his own name, 'What I Wanted to Say' and 'Destiny', but on his most recent release 'The Rath Pack, Live in London' he is joined by fellow Rath endorsees Bert Boeren (Netherlands) and Marc Godfroid (Belgium). In recent years Mark has also produced a growing catalogue of popular educational studies and short pieces published by Warwick Music.
As well as leading his own quartet and Big Band, the Mark Nightingale trombone has recently been heard with Cleo Laine and John Dankworth, Stan Tracey's Octet, the Charlie Watts Ten-tet, the John Wilson Big Band, the Andy Panayi Quartet, the Alan Barnes Nonet, Steely Dan, the Laurence Cottle Big Band and the Scott Hamilton Sextet.