The Best In British Jazz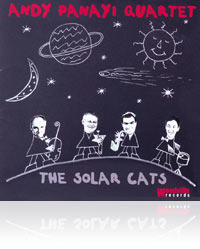 Price £10 inc. postage
Personnel
Recorded Doz Studios, Tunbridge Wells November 2008
The Solar Cats
Andy Panayi
Details
Reviews
Multi-reeds player and composer Andy Panayi is easy to take for granted as a straight-swinging dependable UK regular - until you look at his CV, with its jazz, pop-crossover and classical connections. He's also sometimes labelled a 1950s Cool School devotee, but though this ambitious set certainly explores that contrapuntal, call-and-languid-response approach in Panayi's dialogues with the agile trombonist Mark Nightingale, it's a lot more besides. The duck-and-dive exchanges on the fast title track, the nimble banter on Nightingale's Ursa Minor blues, or the Latin shuffle of The Sky at Night suggest a mix of sparky tunes that sound like riffs stitched together. But then Panayi's nine-part Journey to the Planets Suite opens with his soft flute drifting over long trombone or arco bass notes, the music easing in and out of slow grooves, or punctuated by sudden dissonant chords or dramatic rumbles and cymbal splashes from Steve Brown. Mars reintroduces a bright, boppish feel over trombone swerves and car-horn sax hoots, Saturn is like a dreamy film noir score, and Uranus builds to an implacable drive and a dark, snaking baritone sax solo. The writing is classy and the playing more so. It remains a mainstream-to-bop exercise, even if a confidently quirky one, but it shows a lot more of what Panayi has up his sleeve.
John Fordham - Guardian
In the footsteps of Holst, you might say. It's not always easy to discern the celestial allusions in the saxophonist's journey through the heavens, but that hardly matters. Panayi and the trombonist Mark Nightingale create the sort of vivacious contrapuntal bop once the trademark of Gerry Mulligan and Bob Brookmeyer. The absence of a keyboard gives the improvisation a distinctively airy quality, with the drummer Steve Brown and the double-bassist Simon Woolf helping the two soloists defy gravity. Switching between baritone, tenor and flute, Panayi seems incapable of playing a dull phrase, and Nightingale proves every bit as nimble. There's even a tribute to Patrick Moore.
Clive Davis - The Sunday Times