The Best In British Jazz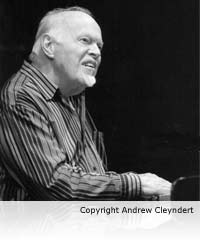 Appears on
John Critchinson
Born in London but spent his formative years (until aged 44!) in the West Country, around the Bath area. Worked with Ronnie Scott, Tubby Hayes, Jimmy Deuchar, Major Holly and many others in the early 1950s at a weekly jazz club, The Icebox, in Chippenham, Wiltshire, whilst an apprentice electrician in his 'teens. After apprenticeship, worked as a semi-pro in and around Bath, including 2 years with the Bristol-based Avon Cities Jazz Band. After 18 months running a Quartet at the Imperial Hotel, in 1978 with the valued help of his friend and teacher, pianist Bill le Sage, he moved to London and joined Ronnie Scott's Quartet and was with the band until it ceased working in 1995.
Whilst with Ronnie's various groups, John also spent 3 years with the Morrissey Mullen Band and worked with many great American players including Chet Baker, George Coleman, James Moody, Joe Henderson, Johnny Griffin. He also recorded 2 Trio LPs 'Summer Afternoon' and 'New Night' on the CODA label.
In 1995 John and Art Themen formed a quartet with Dave Green on double bass and Dave Barry on drums, they appear regularly at UK and European jazz festivals and venues. Their CD'First Moves' is to be re-released on TRiO Records. After the untimely death of Ronnie Scott in 1996, John formed the 'Ronnie Scott Legacy' with Pat Crumly which for 3 years, toured the UK and New Zealand.