The Best In British Jazz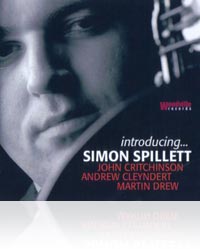 Currently unavailable
Personnel
Recorded Red Gable Studio, London 31st August 2006
Introducing
Simon Spillett
Details
Simon Spillett is a major new voice on the straight-ahead British Jazz Scene. A real virtuoso, he is steeped in the music of Tubby Hayes, but is very much his own man. As he puts it himself: "Choosing Tubby as a role model is quite a responsibility. He drove himself and his bands hard but the excitement they generated was a direct result of that. All I've ever wanted to do is keep some of that alive in my playing".
Reviews
Simon Spilletts debut album clearly marks his preferred territory. Taking his cue from the late Tubby Hayes, he delivers the ten tracks as bold statements of intent and not merely space fillers.
Although a long-standing disciple of Hayes, Spillett is no copyist. He's too self-aware to slide down the slope of soundalikes. Realising that no one can ever sound like his idol, what Spillett does do is to carefully reincarnate some of the elements that made Tubby Hayes a true jazz legend.
Interestingly, this is one of the few occasions when the debut album from a young jazz musician is so overtly influenced by a British jazz star, as opposed to the customary American models. Tubby Hayes had covered all the standards on the album and wrote Off The Wagon, from Mexican Green (Fontana, 1968), which is given a robust ten-minute workout here.
In truth there isn't a bad track on Introducing Simon Spillett, and all are memorable. Due to the fiery way in which they are tackled, the more well-known tunes such as Nobody Else But Me and Cherokee work surprisingly well and sound fresh. As for the four original tracks by Spillett (the two others being Gee Cross and Howdy Doody), they are of sufficiently high quality as to auger well for his future career. So if this album introduces Simon Spillett, then his follow up recording will be certainly unmissable.
Roger Farbey - All About Jazz