The Best In British Jazz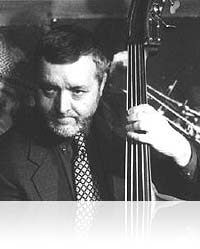 Appears on
Dave Green
Born in London in 1942, he started on tea-chest bass in local skiffle groups before buying his first double bass at fifteen. Local gigs followed, often with neighbour Charlie Watts and trumpeter Brian Jones.
Turning professional in 1963, he worked with Keith Ingham and with multi instrumentalist Pete Shade. He joined the Don Rendell Quintet in the December, and remained with until 1969, by which time it had become the Don Rendell-Ian Carr Quintet. In 1964 he worked with Benny Goodman on TV. In 1965 he joined Humphrey Lyttelton, remaining with the band for eighteen years, but managing to combine the work with playing with Stan Tracey, and accompanying many visiting American jazzmen.
He left Humph in 1983, but continued to work with Tracey into the 1990s. He also worked regularly with Michael Garrick and Henry Lowther, as well as leading his own group Fingers in 1980s. He has worked and recorded with numerous groups in all styles of jazz. His list of credits would fill a book, but to list some of the musicians his Jimmy Blanton inspired playing has accompanied is essential, even in this small biography: Ben Webster, Coleman Hawkins, Zoot Sims, Al Cohn, Ruby Braff, Billy Butterfield, Yank Lawson, Pee Wee Russell, Kenny Davern, Peter King, Benny Carter, Sonny Rollins, Buck Clayton, Capt. John Handy, Barry Harris, Bob Wilber, Roland Kirk, Brian Lemon, Sweets Edison, Martin Taylor, Ken Peplowski, Warren Vache, Dick Wellstood and George Van Eps.
Add to this his tours with Charlie Watts Quintet to USA, Brazil and Japan, his being part of the Scott Hamilton Quartet for the last fifteen years and continuing to work with Alan Barnes, Henry Lowther, Gareth Williams and his own trio, and it's easy to see why he has become one of the most respected bass players in the world. Recent recordings as part of the John Bunch Trio must be added to the list of credits. He has added a further event to his CV by joining the Chris Barber Band in April 2007.