The Best In British Jazz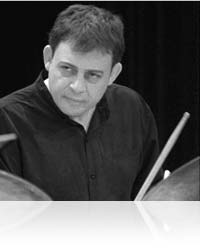 Appears on
Clark Tracey
Clark Tracey was born in London, England in 1961. He grew up in a jazz environment as the son of Stan Tracey, the UK's leading jazz pianist, and from an early age took to the piano and vibraphones. At 13 he started playing the drums and gigged until he turned professional in 1978 by joining his father's various ensembles. In that context he has toured and recorded extensively
In 1981 he formed the first of his own groups with Django Bates, Iain Ballamy and Andrew Cleyndert. Later groups included Guy Barker, Jamie Talbot, Nigel Hitchcock, Dave O'Higgins, Mark Nightingale, Mornington Lockett, Julian Arguelles, Gerard Presencer, Alec Dankworth and Steve Melling. He currently runs a quintet with luminaries from the new generation - Mark Armstrong, Simon Allen, Zoe Rahman and Peter Billington and a trio with Gareth Williams and Arnie Somogyi.
As a composer he has received commissions for his quintet, an octet shared with pianist Dave Newton, "Continental Drift" - an 11 piece band co-composed with Stan Tracey commissioned by The Arts Council, and arrangements for the Berkshire Youth Jazz Orchestra and the Appleby Festival big band. He has also written string quartet arrangements for his own group, Claire Martin, Tina May and the folk group Filska.
As a freelance drummer Clark has had 25 years experience playing alongside some of the most important artists in jazz at home and abroad, appearing on over 80 albums and touring in around 50 countries. He has been awarded "Best Drums" title three times in the British Jazz Awards.