The Best In British Jazz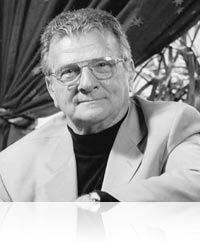 Appears on
Allan Ganley
Born in 1931 in Surrey, Allan's first professional job was in 1951, and the following year he joined Jimmy Walker's quintet, followed by stints with Jack Parnell, Ambrose, Geraldo and then the first big band that John Dankworth formed in 1953. In 1955, Allan left to freelance in London, playing the major jazz clubs with his own quartet, doing recording and film sessions, until joining with Ronnie Ross to form the Jazzmakers, which toured the USA with the 1959 Jazz Festival. Then came the most demanding job in British jazz, the Tubby Hayes Quintet, the most popular group from 1962-1964.
During his time as house drummer at Ronnie Scott's club, Allan accompanied Jim Hall, Art Farmer, Blossom Dearie, Roland Kirk, Freddie Hubbard among others. From 1967 to 1976 Allan played in Bermuda, and during this time met and married June, and their daughter Allison was born in 1972. It was during this time that Allan studied arranging and composing at the Berklee School of Music in Boston. Allan has since written arrangements for the BBC Big Band, Ken Peplowski, Georgie Fame, Elaine Delmar and John Dankworth, as well as his own groups.
Upon returning to the UK Allan formed his first big band. He was a member of the Scott Hamilton Quartet and the Pizza Express All Stars before renewing his association with John Dankworth and Cleo Laine which remains to this day. Cleo recorded "Quality Time", a tune Allan wrote, with lyrics by Duncan Lamont. Allan won the Melody Maker and New Musical Express drum polls in the 1950's and 1960's and won the British Jazz Awards for best drummer seven times in the 1980's and 1990's. He also won the best arranger/composer award in 1990.
Allan appeared in films "All Night Long" and "Dr Terror's House of Horrors" and coached Peter Sellers and Patrick McGoohan in drumming. Allan recorded "Live at the Station" with his quartet on JAGZ records in 2001.
Allan passed away on 29th March 2008.