The Best In British Jazz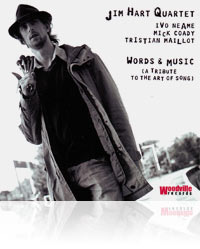 Price £10 inc. postage
Personnel
Recorded at Red Gables Studio July 2008
Words And Music
Jim Hart
Details
Reviews
This is the first recording from vibraphonist Jim Hart's Quartet. Subtitled A Tribute to the Art of Song, the album is Hart's attempt to reinterpret some songs by classic songwriters as well as to debut two of his own, and it's a successful attempt.
Despite the title, there are no vocals on any of the nine tracks. Instead, Hart's vibes take on most of the responsibility for the vocal lines, with playing that is extremely melodic and interpretive. His slightly angular take on the vocal line to the opener "It Might As Well Be Spring" shows immediately that he can bring a fresh interpretation to a classic song while remaining sympathetic to the original.
"Just One of Those Things" offers a really interesting take on a classic song. Coming in at just eight-and-a-half minutes, Hart's interpretation opens with a funky introduction, dominated by himself and drummer Tristian Maillot, before all four musicians move into a chorus or two of the melody and go on to a series of looser interpretations in which bassist Mick Coady and pianist Ivo Neame get a chance to stretch out. The original tune is never far below the surface, but each of the players revisits it with lively inventions. Schwartz and Harburg's "I'll Be Tired Of You" is beautifully played; Hart resists the temptation to fill in every beat and his economy is echoed by the other players.
The remaining tracks (including two written by Hart) are less well-known: one, "It Took Me By Surprise." has yet to be recorded as a vocal number; and Antonio Carlos Jobim's beautiful "Piano Na Manguiera."
Hart's other main project, Jim Hart's Gemini, is a freer, less straight-ahead, ensemble whose own debut album Emergence (Loop Records, 2006) is also worth checking out. Hart also works regularly with Sir John Dankworth, Gwilym Simcock, Alan Barnes and others. He is emerging as one of the most versatile players on the jazz scene and this album serves to emphasize that versatility.
Bruce Lyndsay - All About Jazz
Hart is a young UK vibraphonist who likes the standards book, but isn't enslaved by everybody else's use of it. He shares an acclaimed quartet with his gifted piano contemporary Ivo Neame, and the bustling rhythm duo of bassist Mick Coady and drummer Tristan Maillot. The set is a lively programme of Rodgers and Hammerstein, Porter, Jobim and other classics (including Steve Swallow's much-played Ladies in Mercedes). If the modus operandi is the familiar straightahead solos-in-turn approach, and the language is pretty undiluted bebop, the resourcefulness of Hart and Neame gives it all the kind of freshness that the best improvisers are able to do with every new generation. The band has an engagingly MJQ-like cool grooviness on a mid-tempo piece like Sarah Vaughan's Shulie-a-bop, and Just One of Those Things is transformed from its usual languid resignation to a brisk hustle, with the rhythmic shape of its tune rejigged. Ladies in Mercedes has an almost Steve Reich-like compulsiveness about its opening; Hart's two originals are melodically devious bop swingers; and Jobim's Piano Na Manguiera elicits just the right tonal glow from the leader. It's not hard to hear why this group is such a popular draw on the UK live circuit.
John Fordham - The Guardian
A young vibraphone player best known so far for his bravura playing with the New Couriers, Jim Hart reveals another side of his musical personality here. The nine pieces, ranging from bebop to bossa nova, are cast in standard song form and his ingenious treatments show what a wealth of variety can be drawn from this format. He creates a marvellous diversity of tone on an instrument once put down as a tinkling lightweight. Hart's interplay with Ivo Neame, a most impressive young pianist, is quite magical at times. Bassist Mick Coady and drummer Tristan Maillot complete an excellent quartet.
Dave Gelly - The Guardian
Young multi-instrumentalist Jim Hart (who has performed and recorded on Vibraphone with New Jazz Couriers, Gwilym Simcock and behind the drum kit with the John Dankworth Big band among others) played an impressive live set of originals in February at the Loop Collective festival with his band Gemini. With his four mallet technique, Hart has the facility to dazzle on the instrument, but he can also carve out imaginative solos of purpose and suppleness. This is the first recording by his straightahead quartet formed in 2005 but these same qualities apply here. Add to that some nicely weighted articulation and sense of swing on the CD that includes some Hart's personal favourites from the great American songbook. There's also a bossa, a couple of time-honoured Hart originals and modern standard Steve Swallow's 'Ladies in Mercedes', a piece regularly played by Gary Burton, a big hero of Hart's. 'It Might As Well Be Spring' and 'You Go to My Head' are here but so is less familiar fare such as the Sarah Vaughn scat vehicle 'Shulie-A-Bop'. Hart's deep tender tone and rhythmic intricacy steers ballads 'You Go to My Head' and 'I'll Be Tired of You' clears of any vibes-lounge schmaltz. As with Hart, the casually understated, probing pianist Ivo Neame, a regular collaborator of the Vibraphonist's, can also play prettily without surrendering to mannered sentimentality. We're on old familiar ground here, but as personal explorations of the standard repertoire go it's full of new ideas.
Selwyn Harris – Jazzwize magazine
The title of this album is something of a misnomer. Subtitled "A Tribute To The Art Of Song" it is actually all instrumental with leader Jim Hart choosing his material from lyrics and vocal performances that firstly have inspired him and secondly suit the way this quartet plays.
Originally from Cornwall Hart is now based in London where he is part of the increasingly influential Loop Collective of young musicians. He is a talented multi-instrumentalist playing vibraphone, piano and drums with great proficiency but he is probably best known for his work on the vibes, the instrument he deploys here. Joining him on this album are fellow Loop member Ivo Neame on piano with Mick Coady on double bass and Tristan Maillot at the drums.
"Words And Music" is Hart's second album as a leader. The first saw him leading his band Gemini on "Emergence" (2006) a strong collection of original material that marked the first release on the Loop Collective's own label. Neame, a talented multi-instrumentalist himself, here appeared on alto sax with Coady also present and correct in the line-up.
If "Emergence" documented the more contemporary side of Hart's work then "Words And Music" reveals his roots in the jazz tradition. It appears on Woodville records, the label of versatile saxophonist Alan Barnes with whom Hart has also worked in a relatively "straight ahead" context.
I'll admit that when I first received this album I was a little wary fearing that a collection of standards headed by a vibes player may be rather bland and stray too close to "lounge jazz" or "elevator music". I needn't have worried, Hart is such a gifted and fluent improviser that these nine "songs" are just bursting with fresh ideas. The interplay between vibes and piano is excellent and Neame has rarely sounded so good. Coady and Maillot make a flexible and supportive rhythm team who are an integral part of the collective process. Having reviewed both "Emergence" and a recent live performance by Hart as part of a quartet under Neame's leadership at Much Wenlock it was pretty foolish of me to have any concerns at all. These boys know exactly what they're doing and "Words And Music" is pretty much a treat throughout.
Hart's liner notes detail how the songs came to influence him and the quartet kick off with an invigorating version of Rogers & Hammerstein's "It Might As Well Be Spring". Hart's introduction to this was the Stan Getz/Astrud Gilberto version with one of Hart's all time heroes Gary Burton on vibes. Like Burton, Hart has a prodigious four mallet technique and the ideas just come tumbling out from him. Neame's contribution is nearly as fine and Maillot's nimble drumming the perfect accompaniment . An excellent start. "Shulie-A Bop" was written by George Treadwell with scat "lyrics" later added by the great singer Sarah Vaughan. Hart's introduction was via a trio version on a date led by drummer Roy Haynes and featuring pianist Danillo Perez and bassist John Pattituci. The slithery bebop lines suit the vibes well and Hart sounds marvellous here with plenty space left for Maillot and Coady to trade ideas. Great fun all round. As Hart observes any song based collection just has to include Cole Porter, probably the cleverest and sharpest lyricist of them all. This interpretation of "Just One Of Those Things" was inspired by Ella Fitzgerald's version of the tune The quartet allow plenty of room for improvisation and soloing with bassist Coady once again prominent.
After an opening salvo of up tempo numbers "I'll Be Tired Of You" is a beautiful ballad that showcases the shimmering quality of the vibes. With Neame's lyrical piano, Coady's rich warm bass tones and Maillot's delicate brushwork it all adds up to a masterly interpretation of a tune first discovered by Hart in a version by the Dudley Moore trio (yes,THAT Dudley Moore) in a version with singer Marion Montgomery. Steve Swallow's masterful composition "Ladies In Mercedes" remains a vital part of Gary Burton's repertoire. English singer Norma Winstone added lyrics to the tune later, one of the most convincing examples of "vocalese" ever. This must be one of Swallow's best known tunes and the quartet more than do it justice in a spirited version that contains inventive solos from both Hart and Neame with Maillot also featuring strongly.
"It Took Me By Surprise" is Hart's attempt to write a song along "Great American Songbook" lines. It even has a lyric, which remains unsung here. In any event the tune convinces in itself and is highly reminiscent of Hart's chosen idiom. It fits in just fine with the rest of the album with the composer taking the instrumental honours on the vibes. Bassist Coady also shows up well with another dexterous solo. "You Go To My Head" marks a return to gentle ballad territory in a delicate version of a tune made famous by Billy Holiday. Neame's reflective solo is a particular delight here. "The Cat In The Hat" is a Hart original with words (unheard in this context) later added by singer Anita Wardell. It's another bop flavoured outing full of quicksilver vibes and piano underpinned by tricky but swinging rhythms from the impressive drum and bass team. Maillot even gets to enjoy a few drum fills.
Finally comes one of Antonio Carlos Jobim's lesser known tunes "Piano Na Manguiera", a song Hart discovered on a trip to Brazil in 2002. the quartet's good natured rendition ends the album on a relaxed note, a nice contrast to the densely knit improvisation on some of the previous tracks. Hart is a major talent who deserves to be spoken of in the same breath as his vibes heroes Gary Burton and Joe Locke. He is a brilliant improviser and his quartet match him every step of the way. They bring something fresh and vital to even the hoariest of jazz standards and this album reveals something new with each listening. The high technical standards achieved by the engineering team of Dick Hammett, Andrew Cleyndert and Chris Lewis are also an important factor in the album's success. "Words And Music" is the result of an excellent all round team effort and ranks as one of the most enjoyable British jazz releases of the year.
Ian Mann - thejazzmann.com