The Best In British Jazz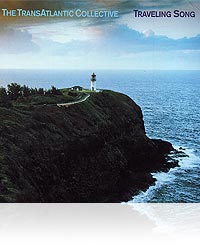 Currently unavailable
Personnel
Recorded at Red Gables Studio 8th, 9th May 2008
Traveling Song
The Transatlantic Collective
Details
The Transatlantic Collective is a contemporary jazz ensemble dedicated to collaboration between emerging American and European artists, and the performance of new original works across the US, UK and Europe.
Reviews
In recent years jazz groups have begun to give themselves names that give nothing away about their composition or style. The TransAtlantic Collective bucks the trend with a name that offers a more helpful description of itself: a group of musicians from the USA, Britain and mainland Europe. American saxophonist Patrick Cornelius, British trumpeter Quentin Collins, Estonian pianist Kristjan Randalu, UK-based American bassist Michael Janisch and drummer Paul Wiltgen from Luxembourg were college friends whose occasional get-togethers have blossomed into a tight and energetic quintet. Traveling Song is their first album: a recording of predominantly original compositions in a straight-ahead contemporary style that showcases their talents well and provides a strong base from which the band can develop.
Traveling Song includes one standard, Cole Porter's "It's All Right with Me." The song starts strongly with Randalu's piano, and although Cornelius' saxophone playing is rather restrained there is enough originality in the arrangement to justify its inclusion. The remaining eight tracks display the group's compositional strength, with every member except Randalu contributing at least one tune.
Drummer Wiltgen's first contribution, "Danse Triste," is a beautiful, slow and haunting number that begins with some fine soprano sax, underpinned by Randalu's piano. Cornelius' "Minor Steps" and "New Blues" give the entire quintet the chance to stretch out, and feature some fine up-tempo work from Janisch and Witgen. Collins' "Tu Mas" spotlights some beautiful interplay between the composer and Cornelius before the trumpeter steps in with a lyrical solo over a tight rhythm section. It's noticeable that each band member's compositions are not simply used as showcase pieces for their writers, they are written to maximize the Collective's individual skills and talents, ensuring that each instrument adds to the effectiveness of the tune rather than being played simply for the sake of it.
There is always a danger that collections of old friends can exclude outsiders, deliberate or not. In a jazz context this can mean that the friends play to please themselves with little apparent interest in pleasing others. The TransAtlantic Collective sounds like the musicians are pleasing themselves, but with no sense that those outside the group are being ignored. Traveling Song is an involving and refreshing piece of work.
Bruce Lindsay - All About Jazz
The TransAtlantic Collective has really established itself as an exciting working unit, forging genuine connections between London, Europe, and NYC….highly-charged contemporary jazz fueled by innate virtuosity, but never hindered by it
JazzWise
The heat and intensity of New York jazz meet the lyrical flair of its European cousin… this is a richly experienced and superbly accomplished group
The Herald, Edinburgh
The TransAtlantic Collective is one of the freshest, most accomplished and compelling jazz groups
The Left Lion, Nottingham Cultural Review
The sharpness of this young band springs plenty of surprises….they sound a pretty hot prospect live"
John Fordham, The Guardian