The Best In British Jazz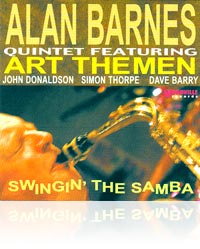 Currently unavailable
Personnel
Recorded Clowns Pocket Studio, June 2002
Swingin The Samba
Alan Barnes & Art Themen
Details
This band was formed as a quartet to play the last set at the Appleby Jazz Festival playing various Latin-based numbers. Art Themen was to join us for a few numbers but, as it wasn't his round there seemed to be point in keeping him at the bar! He joined us right from the start, and an hour later, as a conga line swayed past, fuelled by a heady combination of exotic rhythms and Black Sheep Bitter, I knew we were on to a winner!
Reviews
Latin grooves might be among the staple ingredients of smooth jazz- but what distinguishes the real mccoy from the carefully manicured version is improvising musicians who grab tidy formalities and mess them up. Barnes, an open-minded jazz encyclopaedist with a phenomenal reeds technique, compiled as varied a latin book as he could, from slinky Jobim to 1950's ballroom flamboyance via Dizzy Gillespie's bizarre east-west Rio Pakestan then he paired his harmonically ingenious orthodox sax style with Art Themen's slithery cavalierly pitched eccentricities on the horn.
The result is a very engaging one-off disc. Barnes's opening original La-teen-o bursts out of a big bucolic sax ensemble sound, with Themen's guttural, seesawing phrasing rubbing up against the leaders cleaner Cannonball Adderley like swoops. The Horace Silver title track could have fitted into the BBC's ancient Come Dancing ballroom show, but Barnes is contrastingly spontaneous over the bounce and chatter of Dave Barry's rimshots. His lovely clarinet sound and Themen's slower, smoky tenor also match well on the floaty Jobim piece Favela. Sonny Rollins' Hold 'em Joe is a riotous calypso leading to a garrulous improvised conversation and Themen's most explicit Rollins tribute and pianist John Donaldson is excellent. A hoot in every respect.