The Best In British Jazz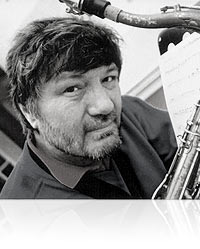 Appears on
Stan Sulzmann
Stan Sulzmann is without question one of the most highly respected musicians in the UK today, admired by musicians and audiences for his instantly recognisable sound, and boundless creative imagination, and is a source of inspiration to many of Britain's emerging young musicians.
Sulzmann's career stretches back to the 60's, when as part of a uniquely talented crop of British musicians, he played with Graham Collier, John Taylor, Kenny Wheeler, Gordon Beck, as well as leading many groups of his own.
Since that time Stan has been at the forefront of European contemporary jazz, and his talents have been sought by a host of discerning musicians, including Gil Evans, Mike Gibbs, Kenny Clarke/Francy Boland and Michael Brecker. Constantly in demand as a guest soloist, he has appeared with bands across Europe, including the Hilversum Radio Orchestra, NDR Big Band (alongside Chet Baker), Hanover Radio Symphony Orchestra and the New York Composers Orchestra.
Further intimate and refreshingly innovative musical partnerships have developed with acclaimed British pianist Nikki Iles, American keyboard player Marc Copland and the trio Ordesa - a drumless, bassless combination with Kenny Wheeler and John Parricellli.