The Best In British Jazz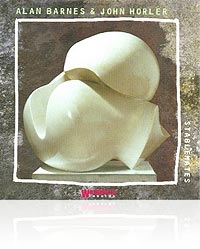 Price £10 inc. postage
Personnel
Recorded at the Ambisonic Studio, June 23rd 2003 and January 26th 2004
Stablemates
Alan Barnes / John Horler
Details
Pianist John Horler was asked to choose a piano for Ambisonic Studios in London and as a thank you they gave him two days free recording! John invited me along for a blow and we recorded six tracks. Listening back a few days later we were both knocked out with the results and decided to return to complete enough music for this album. Throughout we tried to avoid the traditional soloist/ accompanist roles and went for a more integrated approach which worked very well.
Reviews
This is turning out to be the season of the saxophone-and-piano duets. A few weeks ago, it was Danny Moss and Stan Tracey, now this well-matched pair. Indeed, so well matched are they that for much of the time the traditional roles of soloist and accompanist fall away and we find ourselves following a two-way conversation, replete with ideas, jokes, abrupt changes of subject, but only the occasional disagreement. Horler's piano can always hold the attention on account of his quirky inventiveness and his sneaky way of reharmonising familiar tunes. Barnes, who plays clarinet here, as well as alto and baritone saxophones, is simply never at a loss. He's a one-man musical Niagara. I used to wonder how long he would be able to keep it up, but I now realise it's a permanent condition.
Dave Gelly - The Observer
Saxophonist Barnes and pianist Horler are two of the top jazz players in the UK, so it is no surprise that this album of duets is so satisfying. Their choice of material is characterised by strong melodic content, providing the platform for apparently inexhaustible inventiveness. Thus The Sound Of Music rubs shoulders with Round Midnight and Brubeck's The Duke but proves to be an equally suitable vehicle for improvisation.
The standout track however is Horler's tribute, One For Clifford, featuring some soulful but sensitive clarinet by Barnes and typically elegant and flowing piano from the composer.
Steve Millward - Manchester Evening News