The Best In British Jazz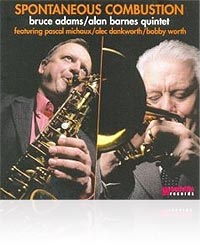 Unavailable
Personnel
Recorded at the Red Gables Studio, September 26th 2006
Spontaneous Combustion
Bruce Adams & Alan Barnes
Details
A new session with my old sparing partner and a trio led by Belgian pianist Pasqual Michaux. Bruce and I have a lot in common: neither of us is prone to depression, we both enjoy playing straight- ahead jazz and we usually contrive to enjoy ourselves! This is a good representation of our current live set.
Reviews
Alan Barnes is a jazzman with a high profile, seemingly appearing at every jazz festival in Britain and also well-known abroad. Bruce Adams, on the other hand, may be less familiar on the jazz scene, as he has often worked as a session musician. However, he and Barnes have been friends and sparring partners for years, co-leading various groups since 1992. And their togetherness is evident on this new album, where they work together well, playing an interesting variety of material.
This session is book-ended by two Cannonball Adderley compositions. Spontaneous Combustion is an exciting opener, with Adams making his mark with some of those high notes which are his trademark. Alan Barnes' solo also hits the highspots before the two play interweaving phrases and then take the tune out in style. The closing Cannonball is equally dynamic, with Barnes leading the way on fluent alto sax and Adams punching the bluesy message home. This track includes a personable solo from Belgian pianist Pascal Michaux but for most of the album the rhythm section plays with professional skill without making much of an individual impact. Attention is focused mainly on the co-leaders and, in truth, they deserve the limelight.
Alan Barnes wrote six of the eleven pieces on the album and they exhibit his ability to compose melodies which are immediately catchy. He knows how to write memorably - a skill he shares with Horace Silver, to whom he paid tribute in his album Yeah! His composition Rengeo contains some warm tenor sax from Alan and nice muted trumpet from Bruce, whose playing here and elsewhere reminds me of Roy Eldridge. Bruce resembles Eldridge in his irrepressible playing, which occasionally leads him astray but - hey! - what are a few wrong notes when you're enjoying yourself? Bruce's enjoyment is infectious, as is the humour of song titles like Bitter-Jug Waltz, on which Bruce plays flugelhorn, managing to avoid the sentimentality sometimes associated with that instrument.
Bruce's muted trumpet in Harmon Blues (another Barnes original) reminds me more of Harry Edison in its allusive economy, while Barnes' tone is very Ben Websterish. Both men play with heartfelt feeling on Skylark, which includes Alan doing his stuttering effect on the baritone - something which could become an irritating mannerism if he does it too often. Motoring Along is a jaunty tune which would suit an old-fashioned commercial for motor-cars. Adams motors along cheerfully, while Barnes's alto negotiates some challenging bends and Alec Dankworth's bass solo almost comes off the track. The bass is more comfortable with Hanging 'round for Friday, an easy loping Barnes composition on which Bruce's muted trumpet again evokes Little Jazz, and Alan proves that his dexterity on the baritone is at least as great as Gerry Mulligan's. One for D.M. is a delicate elegy for the late Dick Morrissey.
All in all, another highly listenable album from Alan Barnes's Woodville label.
Tony Augarde