The Best In British Jazz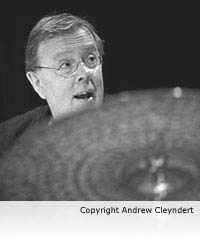 Appears on
Spike Wells
Spike Wells, phenomenal sympatico drummer who seems to read the soloist's mind. Has worked with the best of British and American Jazz exponents during his career and now is being rediscovered in the company of our youthful talent such as Gwilym Simcock - Pianist and cooking authoritatively with Malcolm Creese - Bass at the Swanage Jazz Festival.
Of special note is the fact that drummer Spike Wells worked as a regular member of Tubby's quartet and big band from 1968 to Tubbs death in 1973. Late in the autumn of 1968, Ron Mathewson the bassist arranged an "audition" for Wells to be held at Sinclair Road. "I just had a short time to get my head around the fact I was having the opportunity to join the leading jazz group in the country. I woodshedded a lot, particularly on fast tempos, which was the one thing I knew he would be merciless about".
The "audition" had got no further than the second number before Tubby turned to Wells to offer him the job. Again, he had found what he was looking for and in the star-making way which had benefited previous "discoveries" like Mike Pyne and Tony Levin, Spike Wells had got the Hayes seal of approval. He told me in 2004; "It was an intuitive thing, a bit like people say about Miles Davis. He hired you because he heard something about your playing that he wanted, and as long as you provided it, he let you do what you wanted". The "something" Tubby heard in Wells was a refreshing reflection of the changes which had taken place in jazz drumming over the preceding few years. The innovations of Elvin Jones and Tony Williams work with John Coltrane and Miles Davis respectively had transformed the idea of a jazz rhythm section, as Wells explained; "There were new freedoms opened up in the concept of how to play together rather than just accompanying. We were all spinning ideas off each other in a rather more democratic way and that was what Tubby liked to get into at that point. I think he was intent of freeing up the overall concept. And he found that inspired his own playing".
Endorsement by Tubby led to a rapid overnight career change for Spike Wells and within weeks of joining the saxophonists quartet he was also working with Ronnie Scott and touring with the blind reed virtuoso Roland Kirk.