The Best In British Jazz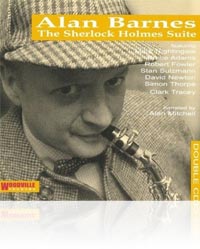 Deleted
Personnel
Recorded Curtis Schwartz Studios January 2003
The Sherlock Holmes Suite
Alan Barnes
Disc 1
1. 221B Play On (Barnes) listen
2. Narration (Barnes)
3. The Game Is Afoot (Barnes) listen
4. Narration (Barnes)
5. Watson (Barnes) listen
6. Narration (Barnes)
7. The Tiger Of San Pedro (Barnes) listen
8. Narration (Barnes)
9. The Napoleon Of Crime (Barnes) listen
10. Narration (Barnes)
11. The Dancing Men (Barnes) listen
12. Narration (Barnes)
13. Grimpen Mire (Barnes) listen
14. The Hound Of The Baskervilles (Barnes) listen
Disc 2
1. Narration (Barnes)
2. The Baker Street Irregulars (Barnes) listen
3. Narration (Barnes)
4. Sherlock Holmes - Quite A Three Pipe Problem (Barnes) listen
5. Narration (Barnes)
6. The 7% Problem (Barnes) listen
7. Narration(Barnes)
8. Lestrade Of The Yard (Barnes) listen
9. Narration (Barnes)
10. Watson's Women (Barnes) listen
11. Narration (Barnes)
12. The Sussex Vampire (Barnes) listen
13. Narration (Barnes)
14. 221B (Barnes) listen
Details
This is a project that I've wanted to produce for years, combining my love of the Sherlock Holmes Stories and Jazz. 14 original compositions, interspersed with narration over 2 CDs. Pour a large glass of brandy, lie back on the ottoman, and, lighting a Trichinopoly cigar, drift back with us to the fog-bound London Streets of the 1890's with its infinite variety of criminal life. The game is afoot!
Reviews
Now this is something really different. It turns out that Alan Barnes has been a raving fan of Conan Doyle's writing, and more specifically, his greatest creation, Sherlock Holmes, since the age of eleven. This double album consists of 95 minutes of original music interspersed with narration relative to the plot and well put over by actor Alan Mitchell. Not only did Alan Barnes compose the music, he wrote the script, and jolly good it is as well.
This is all great fun, but more importantly, the music is outstanding, and the playing by this starry cast of musicians, is superb. Barnes chose his men very carefully, including some of his colleagues from groups in the past, and they all come up trumps, including their very talented leader.
The writing for the octet is clever as it leaves plenty of scope for each of them to show their improvisational skills, and they more than justify their selection. In his own liner notes, Alan states that he tried to write in a way that would bring out the unique qualities and strengths of his fellow musicians, and acknowledges that if that method was good enough for Duke, who is he to quarrel.
There are so many good things in these CDs; it is difficult to know what to pick out. Both Stan Sulzmann and Robert Fowler have their share of good moments, and Bruce Adams brings power and invention to the ensemble and to his solos. Mark Nightingale is just terrific in his spots, and especially in Grimpen Mire and The Hound of the Baskervilles. The rhythm section do a fine job throughout, with splashes of inspiration all over the place from David Newton, who swings hard in The Tiger of San Pedro, and then shows his reflective wistful side in The Napoleon of Crime. It doesn't matter a hoot whether you are familiar with the stories or not. The narration gives you the general idea, and the music is excellent. Alan Barnes has delivered an outstanding opus in this CD, great fun, fine production; I'd give it ten out of ten. Strongly recommended.
Geoff Burdett, Crescendo and Jazz Music, November 2003