The Best In British Jazz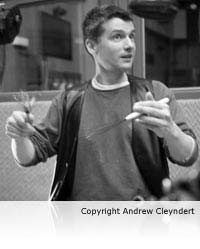 Appears on
Paul Clarvis
Paul Clarvis plays with many different bands and is involved with all musical genres, working with musicians ranging from Leonard Bernstein, Harrison Birtwhistle and John Dankworth to Randy Crawford. He has recorded albums with Gordon Beck, Brian Ferry, John Williams, Sam Rivers, Moondog, John Adams, Mark Anthony Turnage, Marc Ribot / John Zorn, Michel Legrand, Elton John, Richard Thompson, Henry Lowther's Stillwaters and John Harle.
He has worked with Mose Allison, Randy Brecker, Ravi Shankar and most of the London orchestras as featured percussionist and drummer.
He is in great demand on film and recording sessions as a specialist hand drummer. Harrison Birtwhistle wrote the controversial piece 'PANIC' for Paul Clarvis and John Harle which was performed and televised at the last night of the Proms.
Paul has an album out with his band Orquestra Mahatma improvising on folk music from around the world. He has travelled widely researching and studying music from other countries and is a professor at the Royal Academy of Music, London. Orquestra Mahatma have appeared on the BBC 'Jazz At The 606' series, and Paul was asked to chair the panel for the BBC Young Musician of the Year in 1998.
His other band For All The Saints with Tony Hymas and Stan Sulzmann are a leading edge jazz improvisatory group playing world tunes and their own compositions. They work in the avant garde field where jazz meets contemporary classical