The Best In British Jazz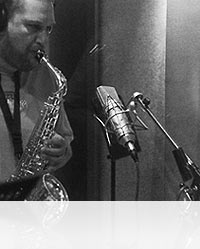 Appears on
Nigel Hitchcock
Born in Rustington, England on 4th January 1971, Nigel Hitchcock first began to play the recorder at age 6, so as to complete the recorder quartet comprising of his elder brother and two sisters. It was therefore a natural progression to the alto sax at age 8. Following in the footsteps of his brother Clive he took lessons from a local saxophone tutor, Victor Yates, and played in all of the area's big bands, being schooled in everything from Glen Miller to Rob McConald.
At the age of 11, both Nigel and Clive joined the National Youth Jazz Orchestra, a splendid training ground for musicians, who rehearsed every Saturday and performed constantly across the country. After only a year he took the lead alto chair where he remained for 5 years, during which time the band toured with stars such as Vic Damone, Buddy Greco and Al Martino. Through his new found NYJO buddies, Nigel began to play with various other big bands, function bands and jazz combos, as well as studying for his exams at his local comprehensive school!
After leaving school at sixteen, and already a seasoned professional, Nigel walked straight into the London session scene, recording TV jingles, movie sountracks, pop solos and various other library albums, as he still does today.
In 1989 Nigel joined the contemporary saxophone quartet 'Itchy Fingers'. This outfit, with their incredibly taxing compositions, gave him the perfect opportunity to use his photographic memory and display an awesome technical facility, which can be heard on the album 'Itchy Fingers Live'. He toured Europe and South-East Asia with the foursome over an 18 month period, leaving to continue his pop/session career just after receiving 3 jazz awards, the Schlitz award for rising star, the Cleo Laine Personal Award for best young musician, and the Pat Smythe Trust award (voted for by musicians).