The Best In British Jazz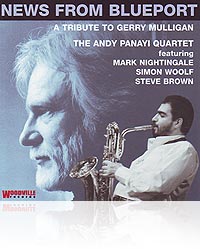 Deleted
Personnel
Recorded Assembly Rooms, Derby March 2005
News from Blueport
Andy Panayi
Details
Stan Getz once stated, "There are four qualities essential to a great jazzman. They are taste, courage, individuality, and irreverence." Andy Panayi has all these qualities in abundance. Add to this, an amazing ear, an unerring rhythmic sense, a vast knowledge of recorded jazz, brilliant compositional and arranging skills, and most importantly, an ability to 'swing like the clappers' and we begin to see what a formidable musician he is. Putting together and running a band requires another set of talents which Andy obviously has, as he has kept this superb little unit together for ten years with only one personnel change. A really great swinging piano-less quartet!
Reviews
One of the UK's younger stalwarts, former National Youth Jazz Orchestra saxist Panayi has been a quiet presence on the scene - but his swing, depth of knowledge, and improvisational fluency have been enhancing other people's groups for more than a decade. This tribute to the classic 1950s piano-less quartet, featuring the late baritone saxophonist Gerry Mulligan, is Panayi's pet project and, slightly unexpectedly, it's an absolute delight. The old arguments that you'd be better off listening to the originals don't apply, because Panayi and the buoyant, superhumanly fluent trombonist Mark Nightingale capture so much of this old two-horn format's freshness that it becomes a new experience. With Simon Woolf on bass and the unerring Steve Brown on drums, they mirror precisely the lightness and airy lyricism that Gerry Mulligan caught, despite playing the sepulchral-toned baritone.
The quartet applies the method to other related material than Mulligan's own, opening with a sizzling account of Art Farmer's Blueport, beautifully catching the floating coolness of Mulligan's classic, Line for Lyons, and even visiting Jimmy Rowles' The Peacocks as a smoky drifter of great tenderness. But the standout is almost the quietest track, the delicately stepping Festive Minor - conveying so much swing just with an understated bass walk and a hi-hat click.
John Fordham, The Guardian