The Best In British Jazz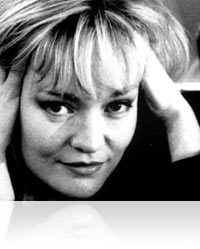 Appears on
Liz Fletcher
Born in Kingston Upon Thames into a musical family (her parents were singers, her stepfather a saxophonist). Liz has performed all over Europe, the Far East and New York. Influenced by Peggy Lee and Julie London with a love for Ella and Chet Baker's phrasing and has always had a passion for Marvin Gaye, Donny Hathaway, The Crusaders and many of the early fusion bands, Liz has developed her own style. She has recorded three solo albums to date; Mellow-mania, Live In The Park and Blue Afternoons.
Liz has performed in jazz clubs such as Ronnie Scotts and internationally with musicians, Alan Barnes, Tony Coe, Jim Mullen, Andy Panayi, Marc Parnell and Gareth Williams to mention but a few. She supported Nina Simone at a Festival in Greece.
In 2004 she recorded an album written by saxophonist Alan Barnes and the playwright Alan Plater called 'Songs For Unsung Heroes which has been touring the UK. The Scarborough Jazz Festival commissioned Barnes and Plater to write another work with Liz singing called The Seven Ages of Jazz. Last year Liz was writing new material with Ceri 'Sunship' Evans the pianist and founder member of'The Brand New Heavies' who she began her jazz singing career with. They performed some of this material at a reunion gig where they headlined at the Ealing Jazz Festival.
In between touring the north of England with violinist Graham Clark and gigging in and around London, Liz is writing material for her next solo album.