The Best In British Jazz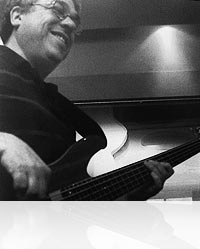 Appears on
Laurence Cottle
One of the UK's top electric bassist for many years, working on the rock side with everyone from Black Sabbath to Eric Clapton, and on the jazz side from Claire Martin to Lee Konitz.
He trained at the Musicians' Institute in LA, teaches at the Royal Academy in London, and currently runs his own astonishing 17-piece Laurence Cottle Big Band, for which he writes and arranges a dazzingly selection of new and more familiar compositions.
Originally from Wales, Cottle has worked with Bill intermittently on several projects, and was the logical successor to Mark Hodgson as Earthworks moved into 2005/6.