The Best In British Jazz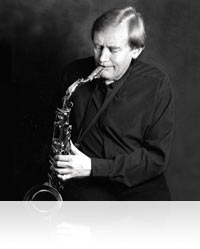 Appears on
John Hallam
At the age of 14, John started playing the clarinet, followed soon after by the alto saxophone and flute. He gained experience with a military band and a dance band, but also jointly formed a jazz band whilst still at school. The first paid gig was at a youth club in Dukinfield where the band with no name found they were billed as the Blue Lotus Jazz Band. The band carried on until the mid sixties with a highspot of winning a competition to play at the Royal Albert Hall with Frankie Vaughan. While in London the band did an interval spot at the 100 Club on the Sunday evening. The star band was Kenny Ball and this lead to a long friendship with the clarinettist Dave Jones.
1968 was the start of a twenty-one year stint with the Smoky City Jazzband, at the time run by Sheila Collier.This included playing alongside Humphrey Lyttelton; George Melly; George Chisholm; Joe Harriot; Bud Freeman; Wild Bill Davison; Stephane Grappelli; Roy Williams; John Barnes; Peter Schilperoort; Dick Wellstood; Danny Moss and many more. During this time the band played at a number of festivals in Europe and did many broadcasts on radio and T.V.
1989 - John became a freelance, professional musician, working alongside many of the finest musicians from both sides of the Atlantic - Clark Terry; Benny Carter; Al Grey; Allan Vache, and Marty Grosz, and more recently Randy Sandke, Jeff Barnhart and Jim Fryer, all from the USA, plus Alan Barnes; Danny Moss; John Barnes; Roy Williams; Campbell Burnap; Mark Nightingale; Jack Emblow and Digby Fairweather.