The Best In British Jazz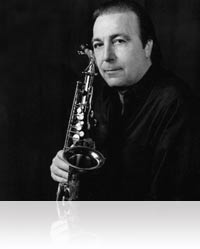 Appears on
Greg Abate
Greg Abate jazz saxophonist, flutist, composer continues as an International Jazz/Recording Artist with 150 days a year touring the globe. In the mid 70's after finishing a four year program at Berklee College Of Music, Greg played lead alto for the Ray Charles Orchestra for 2 years. In 1978 Greg formed his group Channel One which was a favorite in the New England area and from there had the opportunity to play tenor sax with the revived Artie Shaw Orchestra under leadership of Dick Johnson from 1986 to '87.
Following this experience Greg ventured out as post hard bop soloist playing Jazz Festivals, Jazz Societies and Jazz Clubs throughout the U.S. Canada and abroad, including most of Europe, UK, and Moscow and Georgia Russia.
Greg recorded his first CD Live At Birdland NYC in 1991 on the Candid Jazz Label with the trio of James Williams, Rufus Reid and Kenny Washington.
To this date Greg has recorded over 12 other recordings and was nominated for a Grammy for his 2004 recording EVOLUTION in four categories . James Williams, Harvie S and Billy Hart comprised the trio.
Greg is also an adjunct professor of Jazz Studies at Rhode Island College and is also a very active jazz clinician with co. sponsorship from the Conn-Selmer Instrument Co., conducting workshops and master classes through the U.S and abroad.