The Best In British Jazz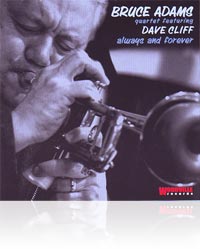 Currently unavailable
Personnel
Recorded Curtis Schwartz Studios, December 15th 2003
Always And Forever
Bruce Adams
Details
Because of his phenomenal natural abilities, Bruce has gained a well-earned reputation as an extremely accurate lead and high note specialist, but musicians and listeners lucky enough to hear him in a small jazz-group setting know that this is only one aspect of his multi-faceted playing. On this album, he concentrates on his wonderful mute work and his gorgeous-toned flugelhorn.
Reviews
A new album from Bruce Adams is something to look forward to hearing and he doesn't disappoint at all with this one. Bruce is one of those amazing musicians who make everything look and sound easy. He is I'm sure the rightful successor to Kenny Baker as the UK's No1 trumpet player. That is not to say that he plays in the same style as Kenny, but the ease with which both could play the near impossible is amazing. I have had the good fortune to work with Bruce on a number of concerts, he is a man of great charm and he has a wonderful presence which makes him enormously popular with audiences. He can adapt to any style instantly and this album gives us just a sample. On the opening track Bruce uses a harmon mute to great effect, he is a master of using different mutes to present the whole range of trumpet effects, few modern players are capable of this. His flugel playing is just as good and he plays it to great effect on ballads such as A Portrait of Jenny and the Pat Metheny tune Always and Forever.
The choice of material is very good and the interest in the music never flags. Mention must be made of the rhythm section Dave Cliff's long melodic lines and thoughtful comping behind Bruce's solos is outstanding. Leon Clayton plays with a lovely full tone on the double bass and Ralph Salmons swings everything along with great style, but always with due consideration for the needs of the other members of the band.
This is my record of the month and I recommend it to everyone as a British Band that plays world class jazz.
Don Mather