The Best In British Jazz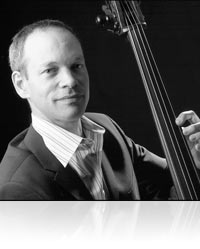 Appears on
Alec Dankworth
Dankworth was born in London, the son of John Dankworth and Cleo Laine. After attending the Bedford School, he studied at the Berklee School of Music in Boston, Massachusetts in 1978, and then joined his parents' quintet. Between 1980 and 1983 he toured the United States, Australia, and Europe with them, going on to work with Tommy Chase, the BBC Radio Big Band, and Clark Tracey, with whom he recorded two albums.
Dankworth recorded Duke Ellington's Black, Brown, and Beige with violinist Nigel Kennedy in 1988, with whom he also performed Antonio Vivaldi's The Four Seasons. He also played in the 1980s with Dick Morrissey, Spike Robinson, Jean Toussaint, Michael Garrick, Tommy Smith, Julian Joseph, and Andy Hamilton, as well as leading his own quartet.
In 1990 he was invited to join and tour with Dave Brubeck's band, and in 1993 he worked with Abdullah Ibrahim, touring Europe and South Africa. he has played with Mose Allison, Clark Terry, Mel Tormé, Anita O'Day, Peter King, Alan Barnes, David-Jean Baptiste, Van Morrison and Martin Taylor, among others. He also co-leads a fourteen piece band with his father John Dankworth, the Alec and John Dankworth Generation Band (or "Generation Band"), with which he has recorded two albums.